Heavy Duty Recovery Services in Corpus Christi
Apollo Towing & Semi Truck Heavy Wrecker is the premier heavy-recovery company in Corpus Christi and South Texas. No matter the heavy-duty vehicle or equipment, Apollo Towing & Semi Truck Heavy Wrecker will get you back on the path.
When you woke up this morning, you most likely didn't have "Require heavy-duty recovery" on your checklist. Yet, here we are. Fortunately, Apollo Towing & Semi Truck Heavy Wrecker offers fast, affordable, and safe heavy-duty recovery for all types of vehicles. As the best heavy recovery company, we have invested in the largest and most advanced fleet in South Texas. That's why we're able to deliver the heavy-duty recovery services you need:
Crane Services
Leaning Trailers
Sinking Trailers
Dropped Trailers
Rotator Services
Truck Rollovers & Wrecks
Off-Road Recovery
Cargo Load Shifts, Load Swaps, and Transfers
Ditch Winch Outs
Big Rig Recovery
Decking & Undecking
Road Tractor Swap Outs
And more!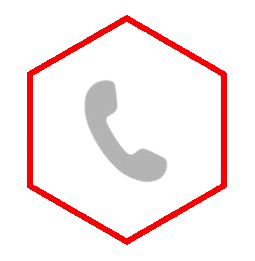 To learn more about our 24/7 Heavy Recovery Service and to speak to a member of our team, call us at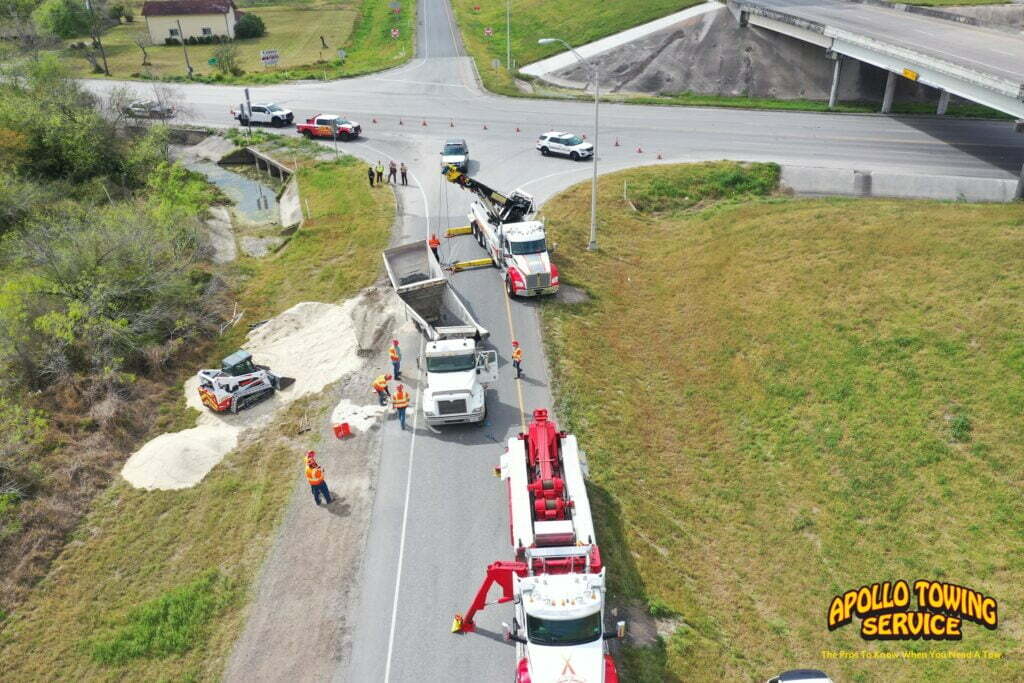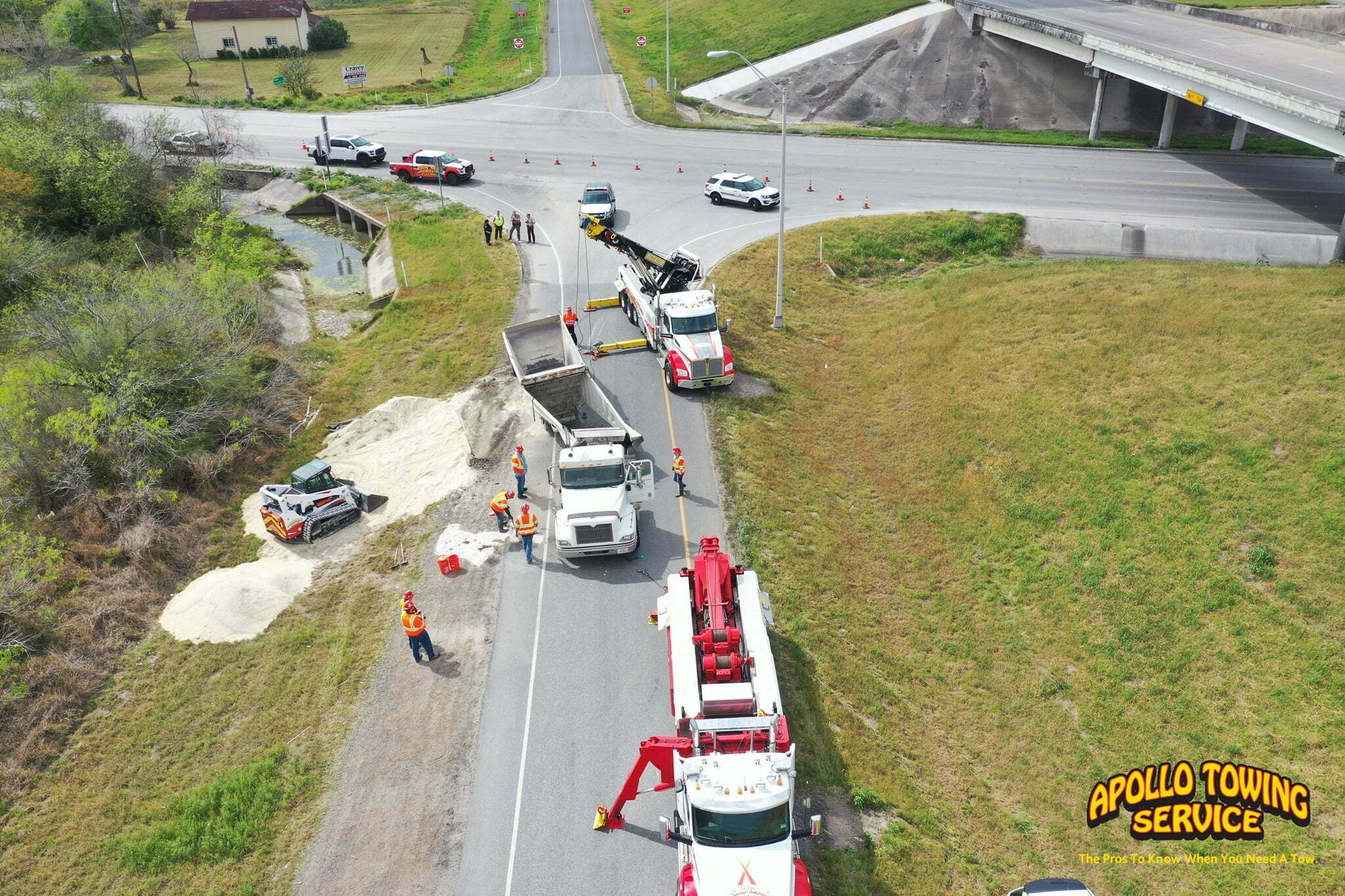 Heavy Duty Tow Truck Services
Providing heavy-duty tow truck services can be tricky. It requires specialized skills, heavy-duty equipment, and expertise to safely get the job done. And since 2011, Apollo Towing & Semi Truck Heavy Wrecker has proven time and time again that we are up to the task. We specialize in quickly and safely towing all types of vehicles, including:
Heavy-duty off-road recovery
Heavy-duty winching and heavy winch out
Semi-truck towing
Tractor-trailer towing
Construction equipment towing
Large fleet vehicle towing and transport
And more
Corpus Christi Cargo Load Shifts, Load Swaps and Transfers
At Apollo Towing & Semi Truck Heavy Wrecker, we provide reliable heavy-duty recovery services and comprehensive services for cargo load shifts, load swaps, and load transfer services.
Our cargo load shift service addresses situations where your load or equipment has become unbalanced due to uneven roads, improper loading, sudden braking, or other factors. Our cargo load shift services can help ensure safe and timely delivery.
Whether you require a different load or need to transfer cargo to another party, we will safely perform the necessary load swap.
Our load and heavy equipment transfer services involve moving cargo from one mode of transportation to another. In any case, we possess the equipment and expertise to execute your load or equipment transfer.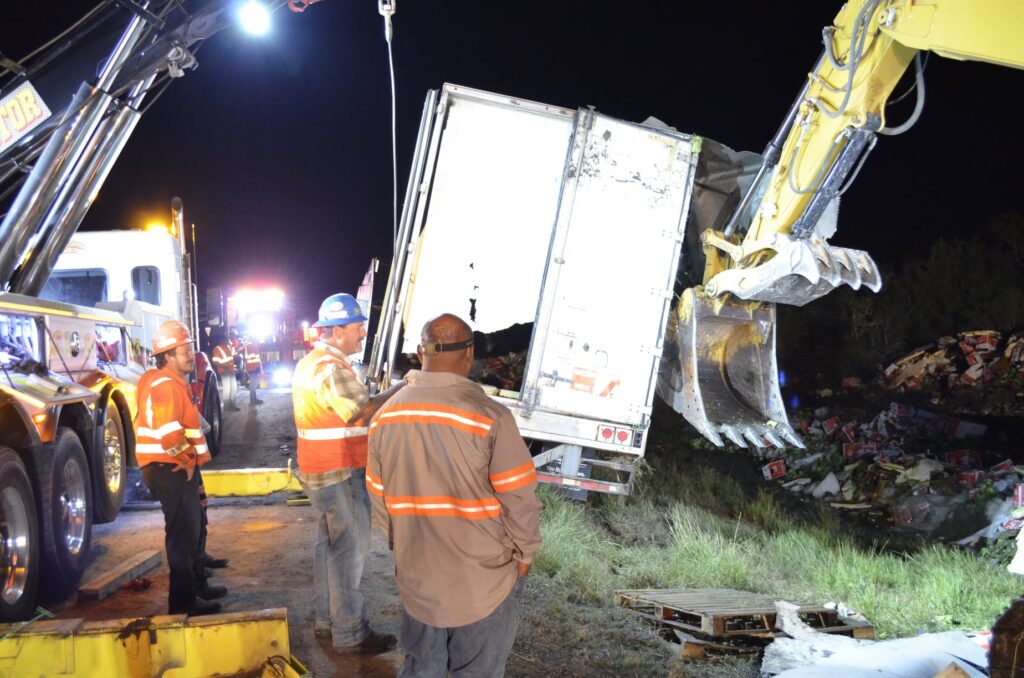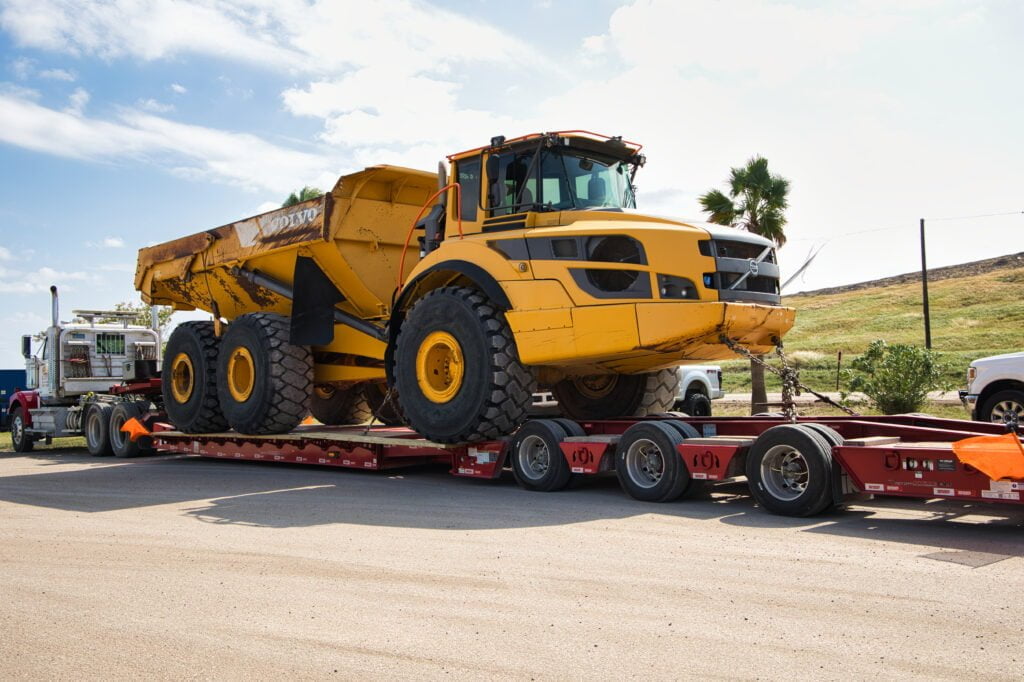 Heavy Equipment Hauling - Construction Equipment Towing
Heavy equipment hauling isn't for the faint of heart. Instead, towing and hauling heavy equipment — like construction and agricultural equipment — requires specialized solutions and decades of experience. Fortunately, the team at Apollo Towing & Semi Truck Heavy Wrecker checks every box. We have the fleet to safely make light work of the largest types of machinery, including:
Excavators
Crawler loader
Motor graders
Skid steer loaders
Backhoe
Road making machines
Concrete mixers
Tunneling and handling equipment
Heavy duty pumps
Cranes
Conveyors
Tankers
Dumpers
And more
While another heavy-duty towing and heavy recovery company may not be up for it, Apollo Towing & Semi Truck Heavy Wrecker is built for it!
Get a Quick Tow Truck Now
Leaning and Sinking Trailers
When faced with a leaning or sinking trailer, it is crucial to address the hazardous situation promptly with a fast and efficient heavy recovery service. Thankfully, Apollo Towing & Semi Truck Heavy Wrecker will meet your needs and exceed your expectations. Our certified operators are well-equipped to provide a comprehensive range of heavy-duty recovery solutions to safely remedy leaning or sinking trailers. Our services include:
Heavy-duty towing
Heavy-duty winch out and heavy-duty winching
Air cushion heavy-duty recovery
Crane and lifting services
And more.
Simply put, there has never been a heavy-duty recovery problem we couldn't successfully tackle.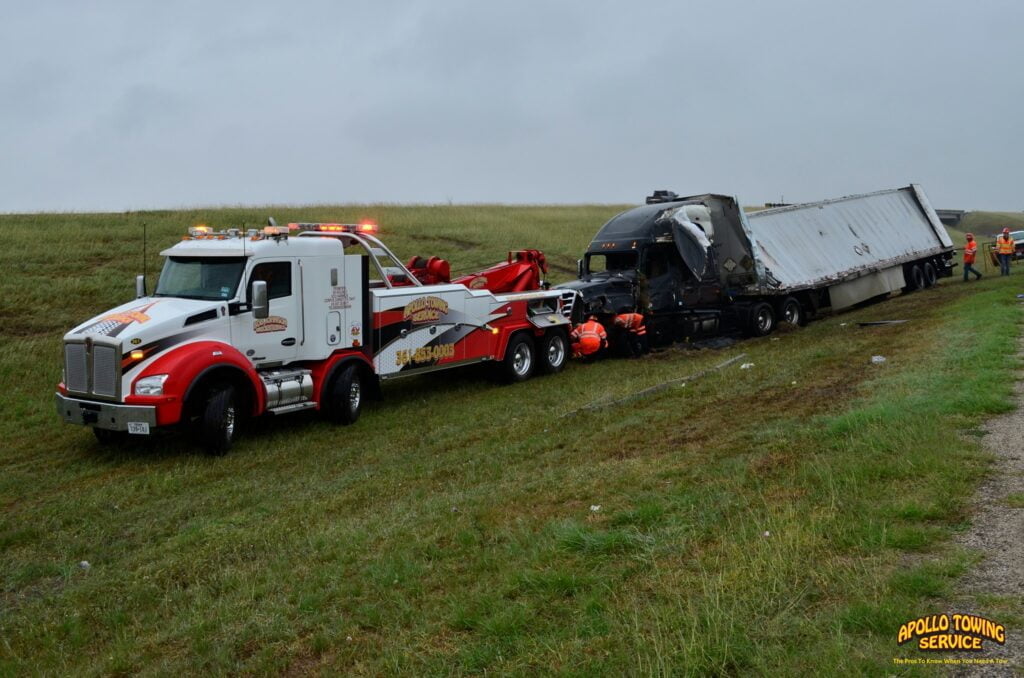 Heavy Duty Winching Services and Ditch Pull Outs
Apollo Towing & Semi Truck Heavy Wrecker offers every heavy recovery service you need, including heavy-duty winching and ditch pullouts. We have invested in the best equipment to safely and quickly recover massive vehicles to prevent further damage.
RV and Bus Winching Service
Semi Truck Winching Service
Low Bridge Semi Recovery Service
Sunken Tractor Trailer Lifting
Jackknife Trucks
Off-Road Winching Services
Underwater Recovery Services
Ditch Pull Outs
Semi Truck Rollovers
AFFORDABLE FORKLIFT SERVICE AND CARGO RECOVERY
When it comes to forklift service, bobcat service, or cargo recovery, Apollo Towing & Semi Truck Heavy Wrecker has got you covered! We provide cost-effective forklift services that cater to cargo and loads of all sizes. Our cargo recovery services will promptly and safely recover stranded or damaged cargo.
Forklift Service
Bobcat Service
Cargo-Load Swaps
Loading Dock
Cargo Hauling
Cargo Storage
Pallet Jack Service
Steel Coils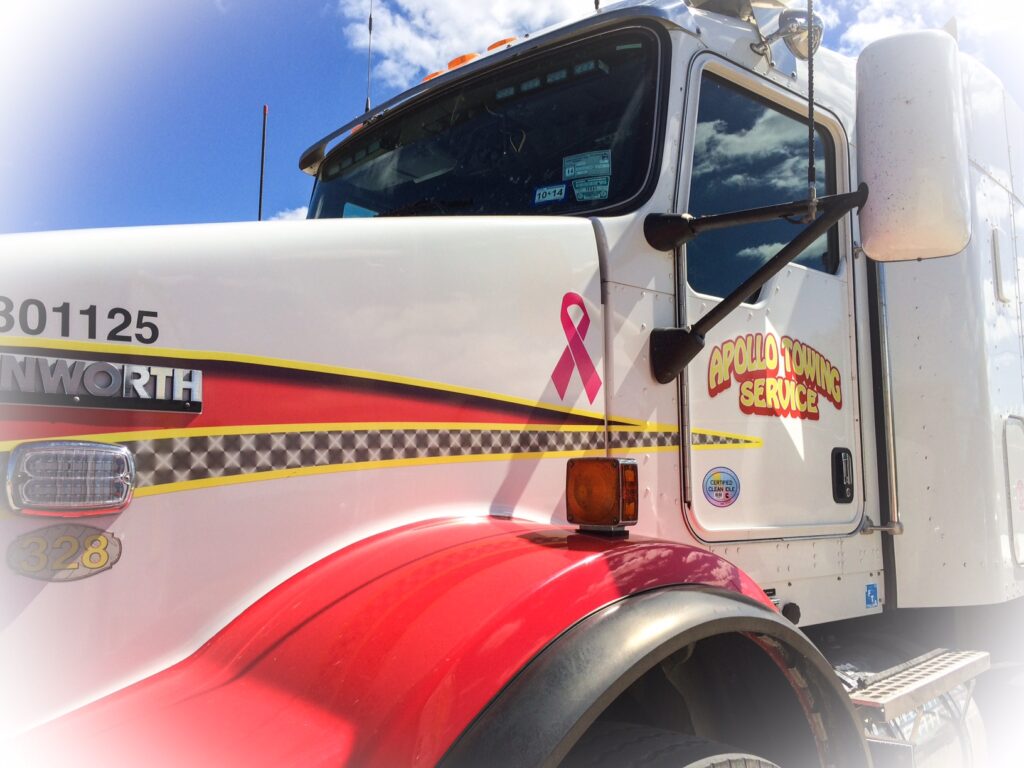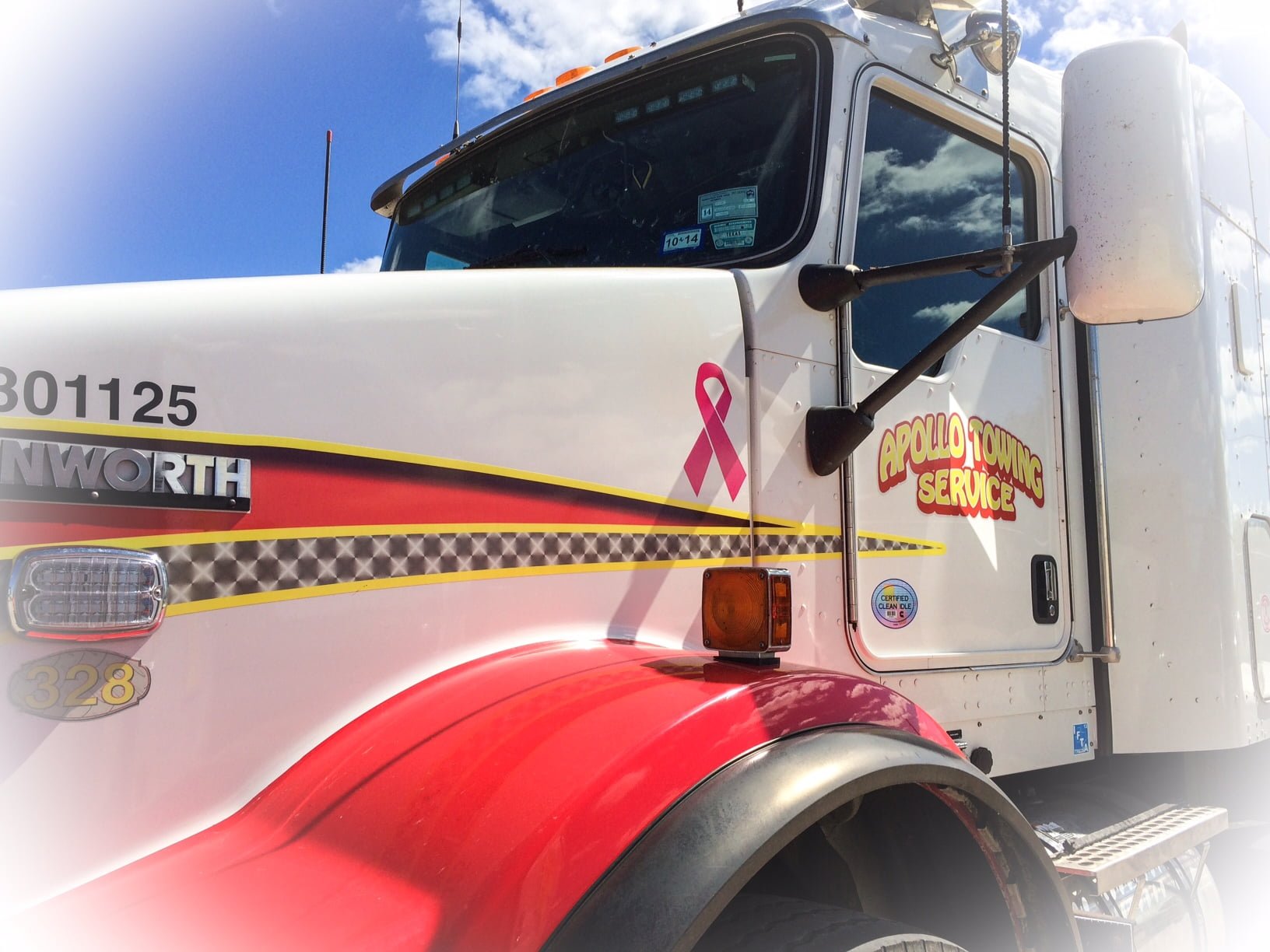 HEAVY EQUIPMENT AND MACHINE RECOVERY
Heavy equipment and machinery — similar to semi-trucks, tractor-trailers, and other heavy-duty vehicles— may also get stuck and require assistance. In such instances, Apollo Towing & Semi Truck Heavy Wrecker excels as the leading heavy recovery company, specializing in recovering heavy machinery and equipment that may be overturned, stuck, or immobilized. Our skilled operators possess extensive experience in successfully recovering the largest and most rugged types of heavy equipment and machines, such as:
Boom Lifts
Trailers
Bucket Trucks
Farming Equipment
Tractors
HVAC
Steel Coils
Factory Moving
Excavators
Flatbed Trucks
Skidsteers
Fork Lifts