Semi-Truck
Decking & Undecking

Service
Professional Semi Truck Decking & Undecking Service in Corpus Christi
If you're searching for top-notch semi-truck decking or semi-truck undecking services in Corpus Christi, look no further than Apollo Towing & Semi Truck Heavy Wrecker. With a legacy dating back to 2011, our highly-trained and certified operators are dedicated to exceeding your expectations. We pride ourselves on delivering fast, professional, and cost-effective solutions for your semi-decking and semi undecking needs in and around Corpus Christi.
Backed by our wealth of experience, we have gained extensive knowledge of semi-truck undecking and decking best practices to ensure safe and efficient operations. Our operators utilize best-in-class methods to minimize the risk of damage and accidents. Our reputation as a reliable partner is evident through our long-standing relationships with numerous owner-operators and trucking companies throughout Corpus Christi and its surrounding areas.
Whether it's box trucks, semi trucks, straight trucks, or sleepers, Apollo Towing & Semi Truck Heavy Wrecker has the equipment, expertise, and tools to handle your semi-truck decking and semi-truck undecking requirements.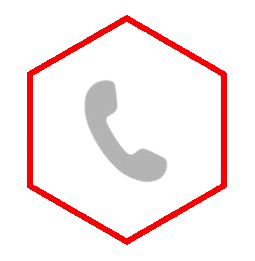 To learn more about our 24/7 Decking & Undecking Service and to speak to a member of our team, call us at
Corpus Christi Off-Loading & Loading Services
At Apollo Towing & Semi Truck Heavy Wrecker, we leverage state-of-the-art equipment to provide fast and cost-efficient loading and off-loading services. Our highly-skilled and certified operators offer a vast range of services for all loads and equipment. Every operator is trained to take a safety-first approach to protect the contents of your load. Instead of running the risk of damaging your cargo, trust the experts at Apollo Towing & Semi Truck Heavy Wreckers for the best and most cost-effective off-loading and loading services in Corpus Christi.
Decking and Un-Decking
Mobile Loading Dock
Off-Loading Semis
Open Trailers
Enclosed Trailers
Heavy Equipment
Specialized Machinery
Cargo Transfers
Loading Ramps
Forklift Service
Tractor Trailer Recovery Services
Regardless of the day or night, Apollo Towing & Semi Truck Heavy Wrecker's tractor-trailer recovery services are at your disposal. We have made substantial investments in the most dependable, state-of-the-art equipment to ensure we deliver tractor-trailer recovery services in any circumstance. Whether it's a jackknife accident, a rollover trailer incident, a tire blowout, or any other challenging scenario, we will handle it with speed and precision.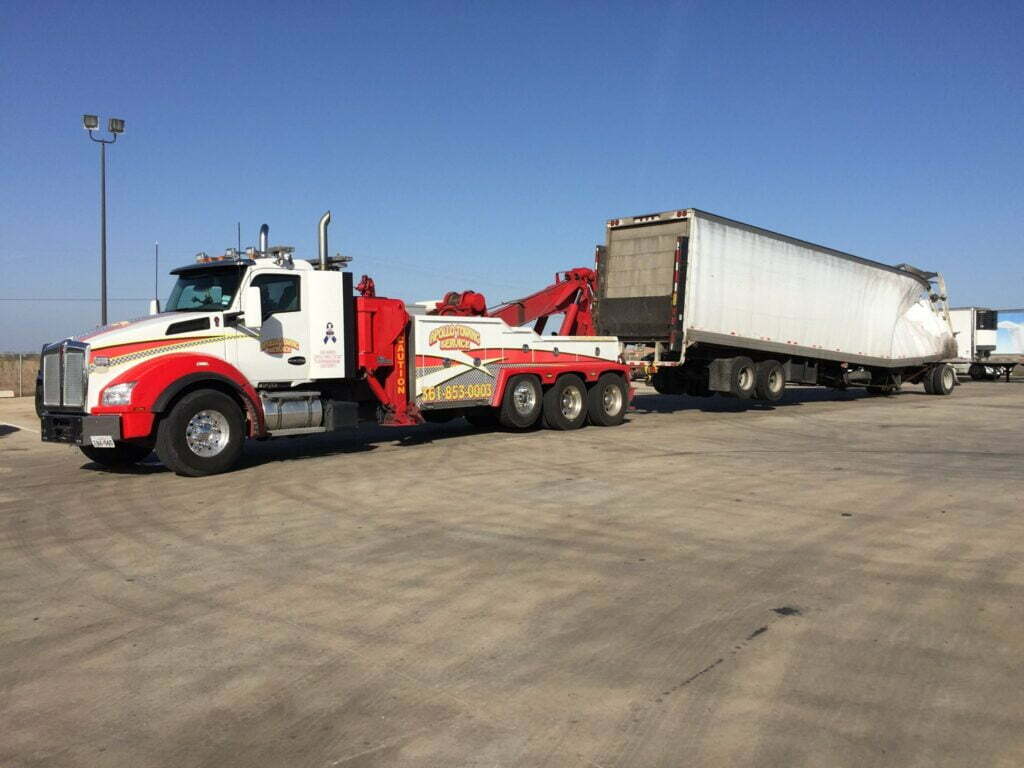 Get a Quick Tow Truck Now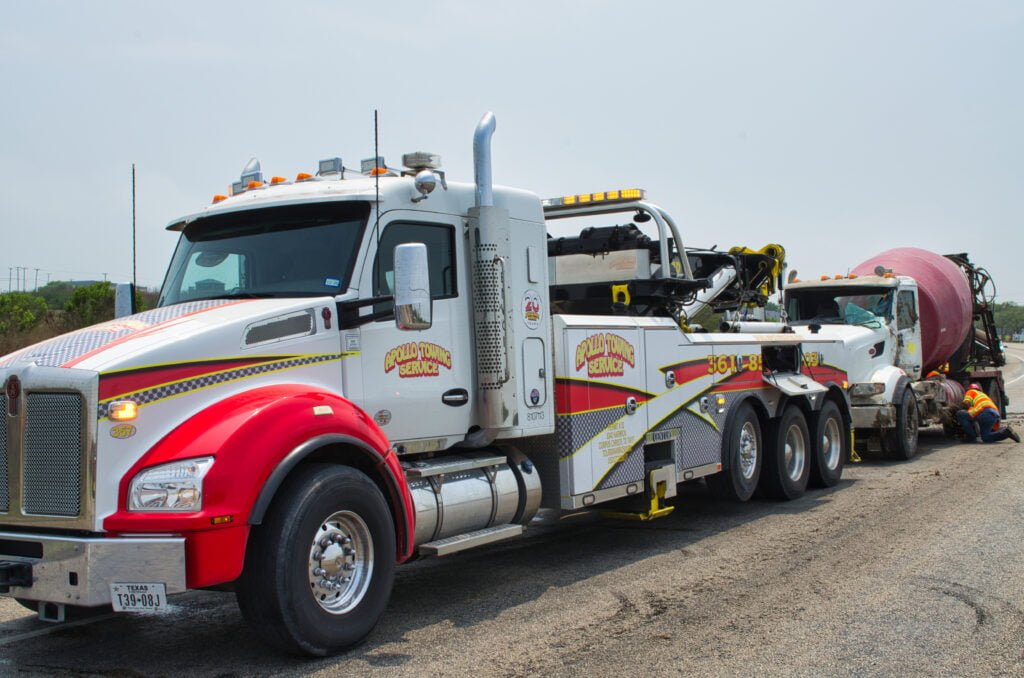 Heavy Duty Towing Near Me - Heavy Towing Service
Looking for the best heavy-duty towing near me in Corpus Christi? If so, Apollo Towing & Semi Truck Heavy Wrecker boasts unrivaled expertise in providing heavy-duty towing services. Whether you own a big rig, bobtail, garbage truck, bus, motorhome, RV, semi-tractor trailer, farming equipment, construction machinery, or any other heavy-duty vehicle, we help you achieve your goals. Over the years, we have gained exclusive expertise in best practices involved with towing these types of heavy-duty vehicles.
Our dedicated team is equipped with the necessary tools and advanced towing technology to ensure the secure towing of your vehicle. We utilize an advanced dynamic heavy-duty towing fleet with specialized features to make light work of the toughest and largest loads. Regardless of the weight or complexity involved, we will provide safe and reliable towing services for your heavy-duty vehicle.
Cargo Load Shifts, Load Swaps and Transfers
Apollo Towing & Semi Truck Heavy Wrecker is your go-to provider for cargo load shifts, load swaps, and load transfers. We utilize industry-leading best practices and state-of-the-art equipment to deliver swift and efficient solutions for your cargo. With 24/7 availability, we offer complete load shifts and transfers for any trailer, ensuring we always meet your needs. Count on Apollo Towing & Semi Truck Heavy Wrecker to deliver the utmost satisfaction for all your cargo-related challenges.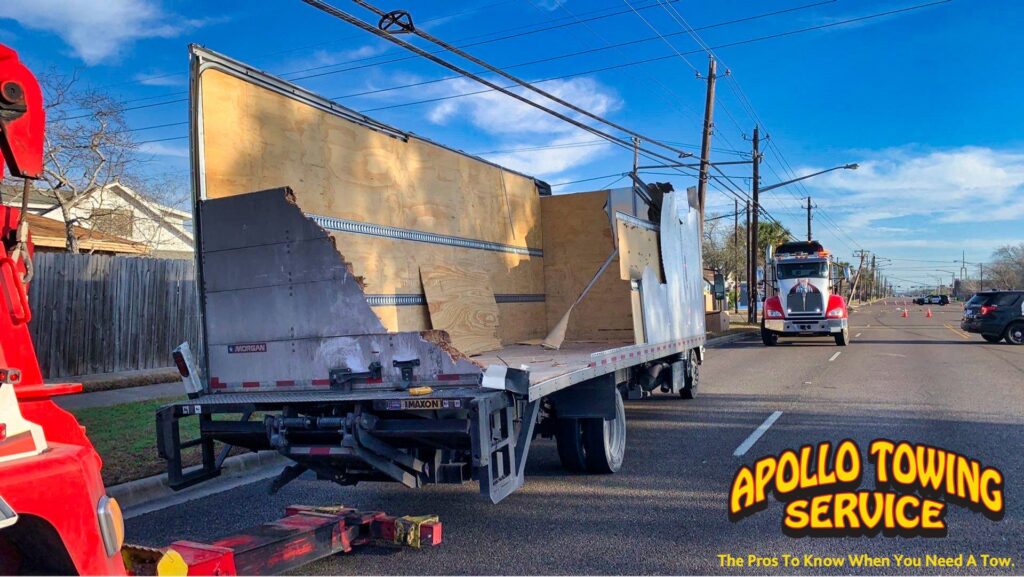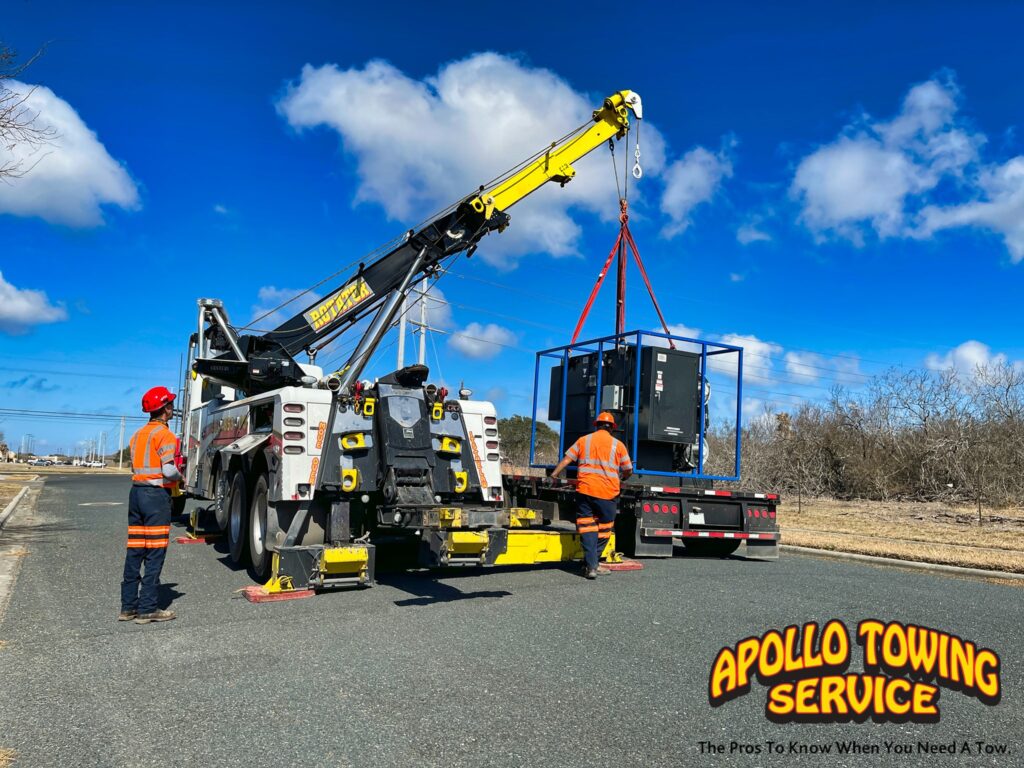 Forklift Service & Cargo Recovery
Apollo Towing & Semi Truck Heavy Wrecker offers a full range of cargo recovery and forklift-related services in Corpus Christi. No matter the size or scope of the job, Apollo Towing & Semi Truck Heavy Wrecker offers affordable, fast, and efficient forklift services and cargo recovery in Corpus Christi, TX.
Forklift Service
Bobcat Service
Pallet Jack Service
Steel Coils
Cargo-Load Swaps
Loading Dog
Cargo Hauling
Cargo Storage
Paper Clamping
Heavy Duty Winching Services and Ditch Pull Outs
We get it — accidents happen. And when accidents happen, you can trust the skilled operators at Apollo Towing & Semi Truck Heavy Wrecker to help. We use cutting-edge technology and heavy-duty tow winches to securely and safely recover tractor-trailers, semi-trucks, and other heavy-duty equipment from ditches. Our heavy-duty winching services and ditch pullout services include:
Off-road winching
Trailer rollovers
Underwater recovery service
Cargo recovery
Trailer uprighting
Trailer lifting
Low-bridge semi-recovery service
Semi-truck winching services